Eaton's Sale!
Eaton's CP SALE is back!🥳🤩 Bringing in more offer and discount up to 7⃣0⃣% for you to enjoy!🆒🆒The promotions valid from 22/03/19(Friday)-31/03/19(Sunday).🗓🗓
Sushi King Bonanza ( March promotion)_18th – 22nd March 2019
Sushi King RM3.18 Bonanza Promotion is coming this 18th-22nd March 2019 with offers more than 45 varieties of Sushi 🍣 available at
Travel For All March 2019 Promotion
March Favorites at Travel For All !! 🔥🔥 Enjoy Travel For All's promotion until this 31st MARCH 2019 for all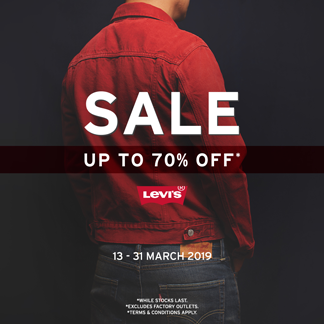 Levi's March Promotion
You've got a denim itch, and we've got the scratch! 😎It's time to enjoy up to 70% off your favourite Levi's®
GNC March 2019 Promo
三月份想争取瘦身目标吗?💪 前往GNC(一楼)享受高达40%折扣哦~😍 Have a breakthrough in your diet and slimming goal this March!💪 Head on to GNC LiveWell Malaysia at 1st floor Centre Point
GNC New Year Promo
Enjoy the New Year special deals up to 50% OFF* Storewide + FREE Limited Edition GNC Ang Pa🧧🧧! Hurry now
Watson #HappyBeautifulYear
Start your #HappyBeautifulYear with The Great Sale! 😱 Get up to 50% OFF and an EXTRA 8%
Travel For All – Christmas Promotion 2018
Hohoho Santa claus is coming to town!🎄🎅🤶 Travel For All at 4th floor is having sales up to 80% until 31/12/2018.
GNC Christmas Promo
Happy Holiday & Merry Christmas from GNC! 🎄🎄🎄 Enjoy up to 30% OFF* store wide. You'll get limited edition gifts
Mr. France Bakery Christmas Promotion
It's a wonderful time of the year! ❄❄❄ Enjoy special Christmas 🎄 promo by Mr. France Bakery (CPS Basement floor) now… Purchase 1